Best viewed in 800x600 HiColor (16-bit) resolution or better with Netscape 3 while in a comfortable chair and sipping a pina colada.



Hey, its Adam. Here are your moves, in map then text form. In the event that you're really into this game, check out the Yahoo! listings of Diplomacy or the Diplomatic Pouch.
Remember, Mikey, the GM, is the one with the full rules (and understanding of them), and his decisions override this page. Note that you cannot have units in Switzerland, Caspian Sea, or any unlabled province (Iceland, Cyprus, Hokkaido, Ireland, Caelcorwynn, Sicily, Cape Verde, Albiele, etc).
Map clarifications: Germany is now orange. A light color represents a Fleet, a dark color being an Army. The color of the supply center sometimes corresponds to its conquerer (lazy ol' me), but usually is the same as the owner's armies. Sorry about the last map and the tardiness of this one; I had holidays to spend with my family.
None of the colors on the key should be the same. Mail me if you have problems.

---
Map for Fall, 3917 (oh, boy!)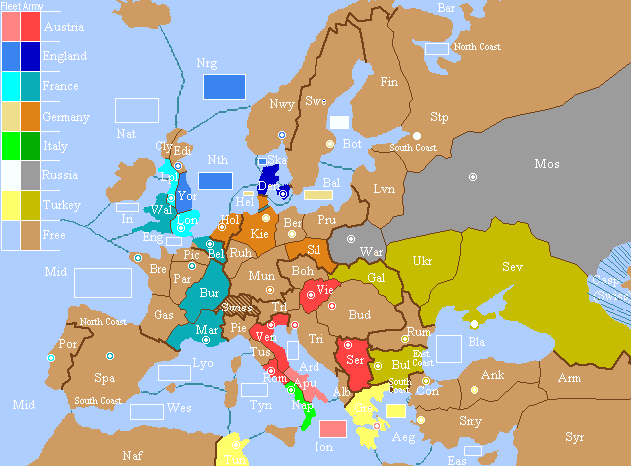 DEADLINE FOR MOVES: Saturday, January 10 @ 10:00pm or call Mikey after 3am (preferably by a dozen or so hours).
---
Who's Who?
Country

Austria
England
France
Germany
Italy
Russia
Turkey
Europa


Leader

Hapsburg Henry Lin
Prime Minister Ben Liyanage
Premier Emilio Oliveira
Kaiser Michael Whitehouse
King Adam Katz
Tsar James Fraumeni
Sultan Ross Fabricant
GameMaster Mikey Franck

---
The Sly Italian
(note that Mikey is also italian in another game and forgets to remove it from his sig)
New Messages from the GM:
I'm...too...busy...to...repeat...all...of...the...messages...that...you...have...already...seen...
Therefore, ... ... ... ... ... ... aw, heck. I'm going to bed. Open your own dang mail server.
Problems with my bold statements? Hotmail/Juno users feel at a disadvantage? Request this section's ressurection and it will live again (when I'm done laughing at you).
If this doesn't look like a fancy cursive paragraph that is really hard to read, then you're missing other fun aspects of this page. Go to FontEmpire and get the COOL fonts! This page uses "Arabian," "Notepad," and "Visitation" (and possibly more that I'm keeping to myself...). You can also get all of the cool fonts from me via disk @ school or via email.
Things to do while you wait for other peoples' moves(like mine):
Note that the fonts aren't the only fun new addition to this page; look around!
My index page -throws you into my main page (see home button below) after dazzling you with cool java scripting stuff.
CyberCheeze, source of many funny jokes (including a joke-a-day email service).
GET ICQ! ICQ will allow you to send faster messages! It allows for online games, chat, and email! It's free! Mikey, Henry, and Ben are already on it. (There are dozens of other NNHS students on it that I'll tell you once you're on it.)
Web Pages That Suck. Go here only if you can HTML edit and recognize common tags. Make better pages by seeing examples of bad ones.
Copy somebody else's research paper (well, use it as a guide; this place is both legal and legit).
Metallica (well, I know at least ONE of you likes them)
Yahoo! (catagory) search. | AltaVista (keyword) search. | Northern Light search. | Excite search. | HotBot search.
More to come. Contact me if you are looking for a certain site but can't find it, or if you've found a site that you believe to "kick ass."
---

Here is my Homepage. My presence on the net is mostly for Advanced Dungeons & Dragons, but I will soon have a Rock'nRoll page up, plus this, and I'm also in TigerNet, the official NNHS web page (which is not this porno site, as posted in the Newtonite).
---
Click on the graphic above to vote for this page as a Starting Point Hot Site.


Member of the Internet Link Exchange
Bannerweb Member
| | | | |
| --- | --- | --- | --- |
| © 1999 Khopesh, L+d.Khopesh (khopesh@mindless.com) | | Corrections needed? Ideas? Suggestions? Comments? Submissions? mail me! I love receiving feedback! Please mention how you found me, your URL, and comments. | |