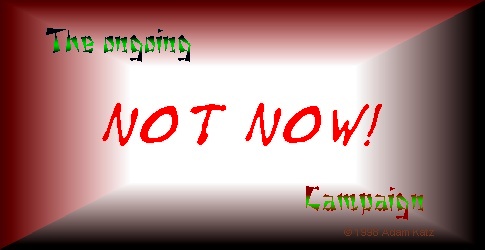 Best viewed in 800x600 HiColor(16-bit)+ res with NETSCAPE 3 while in a comfy chair, sipping a piña colada.

I have no motive to write this page (perhaps its a trick), I just felt like it (kind like all my other pages). This page could be (was) called The Big Page of Laffs. This is a page partly dedicated to the slackers of this world. While there is no "mission statement" or whatever, (well, not now...), there will eventually be one ("in just a sec").
With that established, on to the cool stuff!
Speak your mind:
Good morning (best when its dark outside).
Yes.
In your face with a purple mace!
2 + 2 = 4
I know something you don't know.
The Earth goes 'round the sun.
It will never be Tomorrow. (Tomorrow, "tomorrow" will be the day after that)
Congradulations, you've won -$10!
Don't look now, but there's a homicidal maniac behind you.
Sex is not the answer. It is the question; the answer is yes.
Don't sneeze on my liver!
Would you like fries with that?
Did you know that I know that you know that I know that I'm wearing pants? (this has no extraneous "did you know's;" it would be a different question if there were fewer and repetative with more)
What is the average velocity of a swallow?
That's what YOU think
What's YOUR problem?
Call me what you will, but don't call me late for breakfast.
Umm, put that back on. There's somebody watching.
Don't mess with me!
Want some of this chocolate ketsup?
"Like a rock."
Romeo, o Romeo...were a nose anything but a nose would it still smell?
I fold.
If you build it, I will come
Wouldn't YOU like to know!
Blessed is me, your lord, your god, who hath hollowed your head...
5 bucks says you can't jump out that window & run to Japan in 5 days.
Five seconds remain.
Blue.
It's times like this I wish I'd kept that pencil stub from '86.
Thank you, come again.
Don't feed the hand that bites you.
I can't believe you're not butter!
It all began the day before today. I remember it as if it was yesterday.
<sit down> Betcha can't do this!
Are you pondering what I'm pondering?
<response to a sneeze> Goddamn you!
"The true enemy of creativity is good taste." -- Pablo Picasso
Oh, now you've done it.
Ya know, I don't just let anybody boss me around.
Okay, THAT'S THE LAST STRAW! ... oh, wait; here's another.
This is the best of times, this is the worst of times.
Girl, I have been watching you, and you are hhhhot! (whisper the last word)
Please deposit another twenty five cents to continue...
Can I practice my piledriver on you?
I'm cumming.
That makes me hungry
Are you crazy? I can't bend that!
If pigs could fly, I'd be up there.
<in the middle of heated argument involving yelling> YELLING IS HAZERDOUS TO YOUR HEALTH!
Eat my hat! (Oh, wait; I'm not wearing one...)
You lookin' at me? Oh. Well I'm lookin' at you.
Here's lookin' at you, kid.
<while brushing hair in mirror> Image is nothing.
Compliment Others' Stupidity:
If pigs could fly, your parents would'nt have met.
I really appreciate your stupidity
You're so fat, your toilet seat has shock absorbers.
What's that overgrowth on your head? ...Oh, that is your head.
You're so ugly your mother ties pork chops around your neck so that the dogs will play with you.
I'd steal your lunch money, but I wouldn't want to deprive you of your week's earnings.
If only you were a soccer ball.
Thanks for your support. It really helped me take that fall down those stairs.
If you don't shut up, then I will!
Don't shed on me.
Compliment Others' Sophistication-Impaired Minds:
A few fries short of a Happy Meal.
The wheel's spinning, but the hamster's dead.
Couldn't pour water out of a boot with instructions on the heel.
He fell out of the Stupid tree and hit every branch on the way down.
Doesn't have all his dogs on one leash.
Forgot to pay his brain bill.
A few clowns short of a circus.
If he had another brain, it would be lonely.
Too much yardage between the goal posts.
An experiment in Artificial Stupidity.
A few beers short of a six-pack.
A few peas short of a casserole.
Doesn't have all his cornflakes in one box.
One Fruit Loop shy of a full bowl.
One taco short of a combination plate.
A few feathers short of a whole duck.
Warning: Objects in mirror are dumber than they appear.
An intellect rivaled only by garden tools.
As smart as bait.
His belt doesn't go through all the loops.
Proof that evolution CAN go in reverse.
Has an IQ of 2, but it takes 3 to grunt.
What to do in a Tense Situation:
Sit down and ask for a cup of coffee
Tell everyone you see that you'll see them in hell (didja see Jimmy Carrey on SNL?)
Tell everyone you see, "No, no no! You're doing that all wrong!"
Tell some person "That's not what I would do."
Say, "No, no, no!"
Trip an attractive coworker
Strip
Play footsie
Go to the bathroom (wherever)
Eat green eggs and ham
Whistle in the dark (with music sensation They Might Be Giants?)
Tell everyone to turn thier frowns upside-down
Take your hands out of your pants
Start beebopping and say "Put your hands in the air and wave them like you just don't care!"
Stick 'em up
Don't cram, eat Spam!
Sign the Black Book
Cook wild animals and dance around fires in the woods while nude.
Cry wolf
Copy the periodic table of elements onto your hand (Homer did)
Come out of the closet (where its not so dark and there's more space)
Hang up
Can you say, vacation?
Everyday Abbreviations:
DPW: Department of Pubic Whisperings
DWI: Don't Wash It
DWI: Driving While Itchy
FBI: Federal Bureau of Instigation
FBI: Fat Bully of Intimidation (J.E. Hoover)
NYPD: New York Partners of Destruction
NYPD: Not Your People's Doughnuts
PI: Private Infatuator
RTF: Rediculus, Tiring Formula
DOC: Death of Corry
TXT: Terrifying Xerox Transfer
HTML: Hyper Terminal Militant League
HTML: Hot Tips for Making Love
HTML: Hey, That's My Leg!
SGML: Some Greek Manipulation Language
RISC: Reduced Into Silly Code
WYSIWYG: Will You Stop It? Where's Your Guitar?
WYSIWYG: What You See Is White, Yellow, and Green.
WWW: World Wide Wall
WWW: World Wide Wait
WWW: Wow, Wow, Wow
URL: Unidentified Red Label
UFO: Unidentified Farting Object
UFO: Unidentified Falling Object
UFO: Unusually Funny Olive
UFO: Unified Fleabag Organization
HTTP: Hyper-Text Toilet Paper
SCSI: System Can't See It
.COM: Comical Optic Material
.ORG: One Red Grape
.MIL: Must...Illegalize...Licensing
.EDU: Educated Dorky Union
TGIF: Thank Ginger in France.
RSVP: Respond Very Soon, Please.
RSVP: Red Spoons are Very Pleasing.
ASAP: As Stupid as possible
ASAP: As Suspicious as Pork
BYOP: Bring Your Own Pants
LOL: Lots of Lettuce
BRB: (I've) Been Really Baked
BRB: Babies Rot Brains
YRW: Yeah, Right, Whatever.
GE: General Excitement
DEC: Do Expect Cuts
IBM: I Blame Microsoft
IBM: International Business Marijuana
IBM: Imagine Burning Magazines
CBS: Central Billing Services
ABC: A Boring Company
ABC: Already Been Casted
NBC: National Bowling Champions
FOX: For Other Xylophones
FOX: Five Orange Xylophones
WB: We're Broke!
WB: What Business?
DIS: Disney Is Sexist
HBO: Her Big Oranges (if ya know what I mean...)
TNN: The Naked Network
ST:TNG: Star Trek: They're No Good.
X-FILES: X Fat Illegal Lies Entertaining Students
MAD: Making Another Dinner
SNL: Saturday Night in Lithuania
SNL: Starting Nightly Lessons
SNL: Still Not Listening
MS-NBC: Micro Soft Nuts and Butter Company
ICQ: I Censor Quacks
ICQ: I Can't Quit
AOL: America on Lithium
AOL: America or Lithuania
AMD: A Motherboard Designer
MICROSOFT: Most Intelligent Customers Realize Our Software Only Fools Toddlers
IBM: I Beat Macintosh
IBM: Intel Bests Motorola
IBM: International Bead Manufacturer
IBM: International Bread Makers
IBM: I'm a Bowel Movement
OS/2: Obsolete Soon, Too.
WINDOWS: Will Install Needless Data On Whole System
WINDOWS NT: Will Install Needless Data On Whole System without New Technology
DOS: Defective Operating System
BASIC: Bill's Attempt to Seize Industry Control
IE: Internet Exterminator
IE: Intresting Exit
TV: Too Violent
PG: Parent's Guest
CD-ROM: Consumer Device - Rendered Obsolete in Months
PENTIUM: Produces Erroneous Numbers Through Incorrect Understanding of Mathematics
ZIP: Zen Industrial Plastic
ZIP: Zoned In Public
M:TG: Magic: They're Gone!
AD&D: Antichristian Divinists and Dingos
TSR: Too Stuck on Rules
WoTC: We're on The Cards
TORG: Those Ogres are Really Great
AC/DC: Also Coined, District of Columbia
NIN: Nine Is a Number
KMFDM: Krazy Mother Fuckers Do Music
COC: Corruption of Cocaine
USAF: United States Accepts Fraud
USA: Union of Superior Asinines
USSR: Unidentified Strong Supporters of Realism
USSR: Union of Suspicious Soviets in Red
UN: United Nihilists
NASA: Not America's Sanitation Association
NAFTA: Not Alcohol For Teenagers, Anyway
PCMCIA: People Can't Memorize Computer Industry Acronyms
COBOL: Completely Obsolete Business Oriented Language
MIPS: Meaningless Indication of Processor Speed
LISP: Lots of Infuriating & Silly Parenthesis
MD: Medically Defective
BA: Bingo Activist
MA: Minimal Assistant
BS: Bull shit
MS: More shit
Phd: Pile higher, deeper
Phd: Pretty hot dame
COS: Couldn't Operate the Stapler
SIN: Stupid Idiot's Notebook
TAN: Teens Are Naughty
SEC: Silicon Electron Charge
CSC: Cars Stop Crime
COT: Can't Opeerate Television
Link to this page!
Just put this information on your webpage:
<a href="http://members.tripod.com/~khopesh/fun/101.html">
<img src="notnow.gif" alt="Not Now!" border=0></a>
And this image on your website: notnow.gif.

The finished link looks like:

| | | | |
| --- | --- | --- | --- |
| © 1999 Khopesh, L+d.Khopesh (khopesh@mindless.com) | | Corrections needed? Ideas? Suggestions? Comments? Submissions? mail me! I love receiving feedback! Please mention how you found me, your URL, and comments. | |